Mandarin Discovery School
Classes in Westchester
914-351-6788
Mandarin Discovery School
With the spread of globalization, Mandarin has become an important and highly-practical business language for countries around the world. Proficiency in Mandarin yields abundant business opportunities, and those opportunities will be even more abundant with the passage of time. Exposure to this language as early as possible in life can only enhance the skills that will enable our children to eventually thrive in a multi-cultural world. *Young children have the best ability to learn a new language, and the immersive environment at Mandarin Discovery School makes the most of this ability. We offer classes for all ages - children and adults. We offer a fun environment that makes it easy for our students to learn Mandarin. Our program teaches all four language skills: speaking, listening, reading, and writing, with a particular emphasis on speaking.  
STUDENT GROUPS 
PRESCHOOL students -  ages 3 – 5 years HIGH BEGINNER students - 5 years and older ADVANCED BEGINNER students – 6 years and older Available to all above student groups: Private tutoring sessions (in-person), Group lessons (online and in-person), Individual lessons (online)
WHITE PLAINS SATURDAY PROGRAMS  
In-person classes held at the YWCA  515 North Ave. Maximum 10 students in each session Combined Preschool and High Beginner Classes 9-11am first group 11-11:30am Classroom will be cleaned, toys and materials sanitized 11:30am – 1:30 pm   second group
YONKERS PRESCHOOL TUESDAY, THURSDAY & FRIDAY PROGRAMS 
In-person classes held at 207 Jesseman Ave. Maximum 10 students in each session Tuesday:  9:30am – 2:30pm Thursday: 9:30am – 1:00pm Friday:      9:30am – 2:30 pm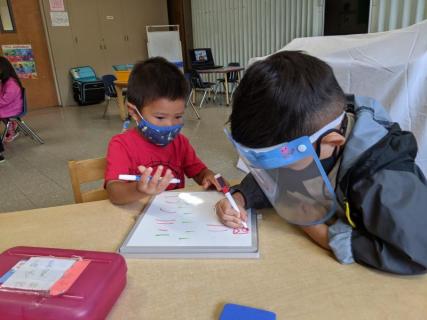 ADDITIONAL MANDARIN PROGRAMS 
ADVANCED STUDENTS/ADULTS – Tutoring, Online group classes, Test prep -call or email for days and times MOMMY & ME – Backyard Pods TRANSLATION
PRESCHOOL PROGRAM
Mandarin Discovery school program is an immersive and creative program for children 3 to 5 years old. Children learn Mandarin with musical instruments, Mandarin songs, arts and crafts, and traditional Chinese writing known as 'Mao bi '. This method of using cultural recreational activities makes the class fun for the students. Children also learn daily life conversational skills organically, that is, they learn those conversations in context. For example, they learn the vocabulary associated with family members, food, daily routines, household items, and daily activities by having conversations about those things. The students can also bring projects in and out of the classroom to maintain language at home as well.
MOMMY & ME
In our Mommy & Me program, mommies and babies learn Mandarin songs together with instruments.  To make  learning Mandarin fun, we prepare different games with colorful scarves, puzzles, parachute tents.  Also, we will read Chinese children's stories and make arts and crafts together.
Founder Shanshan Li 
I was born and raised in China. Before I came to America, I spoke only a little English. In Beijing, China, I was a licensed nurse and worked in a women's and children's hospital. As the nursing industry grew, China needed more nurses who could speak English. So, I decided to come to the USA to learn English. Living in America, immersed in daily interactions & culture, enabled me to learn English at an accelerated rate. This experience showed me how practical and effective an immersive language program can be. I love children and I have been teaching Chinese for 8 years as a private school teacher and a tutor. I have experience teaching Mandarin at public and private schools, as well as education centers. Also, I've taken several classes in Early Childhood Education and I've obtained ACTEF Certificate (American Council on the Teaching of Foreign Languages). In addition, I am certified in CPR First Aid. At present, I am teaching and tutoring children aged 18 months up to high school students, and I have the privilege of sharing Chinese culture and language with these children. Learning a language goes hand-in-hand with learning a culture. It would be my pleasure to help your child to learn Mandarin and enjoy Chinese culture at the same time!
PROTECTION FOR STUDENTS AND PARENTS/CAREGIVERS :
WHITE PLAINS SATURDAY PROGRAMS
1. Parents are not allowed to come to the building on Saturdays. One teacher will be at the drop-off side (the side door of the Y in the big parking lot) to meet you and your child. There will be a staff member from the Y to check each student's temperature and sanitize each student's hands. The teacher will write down each student's temperature. Mandarin Discovery will share the entire list of temperatures with all the parents via email.
2. The teachers will wear masks and face shields for the duration of the in-person class.
3. Classroom materials will be organized and separated into clear, plastic envelopes. Each envelope will be labeled with the name of the student to whom it belongs.
4. We will also provide the students with single-use gloves before they handle toys or materials. For the students that do not wear gloves, we will sanitize or wash their hands after they touch the toys or the materials. Parents must inform us as to whether they prefer gloves or sanitizer for their children.
5. The students will sit 6 feet apart. We will send parents a picture of the classroom setting before our regular class starts.
6. Snack time: one teacher will take 2 students to sit at a cafeteria table. Each student will have 10 minutes for their snack time.
7. Bathroom time: parents, please take your child to the bathroom before class begins. We will take a small group of students (2 children) to the bathroom every half an hour, if necessary.
Each time, the teacher will sanitize the students' hands before and after they use the bathroom.
8. Rewards: at the end of the class, students are accustomed to getting something from the treasure box. The things the students get from the treasure box will be in a protective plastic bag to limit the number of hands that touch them.
9. After the class: one of the teachers will escort students out of the YWCA in groups of 2 or 3. The students will hold on to a rope that keeps them 6 feet apart.
10. Between 11:00 AM - 11:30 AM, Teachers will sanitize the tables and chairs.
YONKERS WEEKDAY PROGRAMS
Parents are not allowed to come into the classroom. The teacher will pick up the students from the front door and check the students' temperature and sanitize their hands before they come into the classroom.
Students will wear the masks and stay 6 feet apart in the classroom. We will wash hands and sanitize the things they have touched in the classroom. We will check the temperature and sanitize their hands before they leave. Parents will wait by the door.
Please send me information about Mandarin Discovery School
Find More
CAMPS - ACADEMIC - PRINT GUIDE

Summer Camp is offered for ages 2-10. This summer we are offering online group sessions, virtual and in-person tutoring sessions, and Saturday in-person classes (limited spots available).  We teach Mandarin, with an emphasis on speaking, and Chinese culture in a fun, immersive Mandarin environment.
Get the Best Kid-Friendly Activities
Sent to You Weekly!