Primrose School of Woodbury NY
90 Crossways Park Drive West
Woodbury, NY
516-921-3300
Who We Are
Programs
Health
Testimonials
About Primrose of Woodbury, NY

Welcome to the Primrose School of Woodbury NY. Our Balanced Learning curriculum is our exclusive, time-tested approach created from the best early education wisdom that balances purposeful play with nurturing guidance from teachers to encourage curiosity, creativity, confidence and compassion.
Primrose Schools® is a national system of accredited private preschools that provides a premier early education and childcare experience for children and their families. We build a partnership with our families in order to build a strong foundation for our children.
Our focus of the curriculum is the "whole child" - cognitive, creative, physical, and social emotional. We have a brand new, state of the art facility, comprising of two playgrounds, an indoor interactive room, outdoor garden, and freshly prepared meals by our in-house chef.
We are conveniently located in the Crossways Office Park, off the 135 Expressway and down the street from Jericho Turnpike and the LIE. We are minutes away from the A.P. Willets and Walt Whitman Elementary Schools. We are a 12 month program, and operating during the hours of 7am-6:30pm.
Meet Our Team

Shveta Alreja & Rahul Alreja
- Owners
Shveta Alreja began her professional career as an undergrad from Boston University, with a B.A. in Business Administration, Marketing, and Psychology and a M.A. in Early Childhood and Special Education from New York University. Since Rahul and Shveta were born and raised, and are now raising their family, Arya (4) and Kavir (2) on Long Island, they felt it was imperative to give back to their community. Valuing the importance of a strong early education led them to open their own early education school.
Sabrina Hager
- Director
Sabrina Hager brings ten years of experience in the field of early childhood education, serving as a Director in a private preschool as well as a teacher in both a Special Education and General Education classroom. Sabrina completed her B.A. in Childhood Education and her M.A. in Early Childhood Education through Concordia College in Bronxville, N.Y. With experience both in and out of the classroom, she brings her passion for quality early education to the first Primrose School of New York. She was fortunate enough to have her two children, Elizabeth (5) and Steven (3), to join her at the first Primrose in NY as well.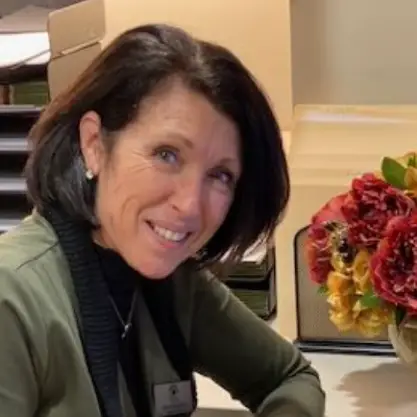 Patricia Sammon
- Assistant Director
Patricia Sammon has over 20 years of experience in the field of Early Childhood Education. Her journey began as a Head Start Educator with the Economic Opportunity Commission of Nassau County. She furthered her studies which enabled her to obtain her Administrator Credential in Early Childhood. Patricia is also a former Director of a preschool in Massapequa. During her free time, she enjoys spending time with her children and her four grandchildren.
Summer Adventure Club
Summer Camp for Elementary Kids, ages 5-10
At Primrose Schools Summer Adventure Club, children become engineers, artists, explorers and more as they discover the joys of design thinking, a fun and innovative way to learn. Engineering design challenges, experiments and themed activities await as children unlock new ways of thinking—all while having a blast! Dream it. Plan it. Make it happen. Ready for the best summer?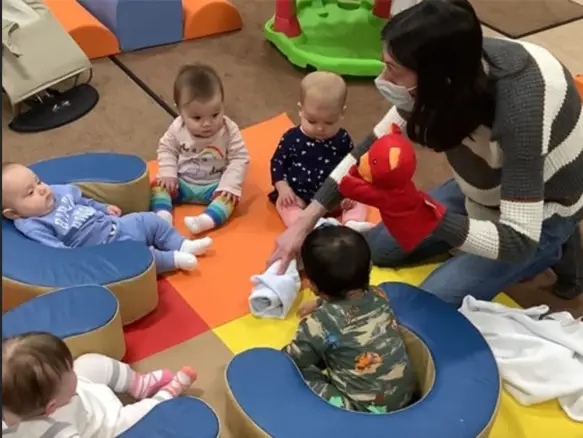 Infant Program
Babies are born wanting to learn, like little scientists. They explore and learn through all their senses, even before they can crawl. Throughout the day, you will see Infant teachers talk and sing with your child during feeding, diapering and playtime. This interaction helps your baby begin to understand language and conversation. Our staff pays close attention to all aspects of your child s development. Find out how you can encourage this learning by providing new opportunities for them to touch, taste, smell, grab and listen to the world around them in a safe and nurturing environment.
Early Preschool Program
Two-year-olds may want to do everything by themselves. And why not? It s their way of experimenting and learning to understand the world. Our teachers provide a safe, nurturing environment where your child can explore and stretch his talents to the fullest while building self-confidence. Your child is engaged and having fun, not even aware of all the learning that s occurring. We actively partner with parents to help your child learn important independent life skills, like potty training and hand washing, in our Early Preschool program. Our staff pays close attention to all aspects of your child s development, which we will share with you daily.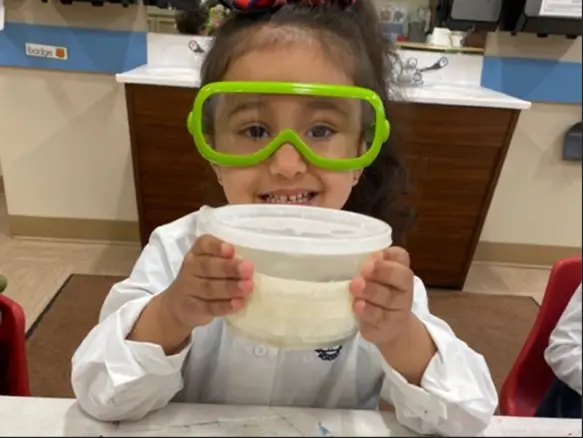 Preschool Program
To your preschooler, nothing is impossible! They are opening up their world and developing special friendships. Together, they are learning new words and forming new ideas every day. Teachers guide and extend children s thinking through purposeful play, meaningful questioning and direct instruction. Your child is engaged and having fun, not even aware that she s developing skills to prepare her for reading and math. A-B-C. 1-2-3. Your preschooler begins to connect letters, sounds and numbers, expanding their world through reading and math, building critical thinking skills, early physical fitness and nutrition.
After School Explorer Program
Whether your child is a budding actor, tech wizard, athlete, author or rock star, there s something for everyone in our Explorer Program. Imagine a nurturing after school program where children can relax, make friends and continue to learn while having fun. Welcome to the Primrose Explorer Program for children ages 5 through 10. Children receive homework help so they establish good habits and are freed up for more family fun at home. Still, there s plenty of time to explore creative expression, sports, technology, drama, music, games or enjoy some downtime.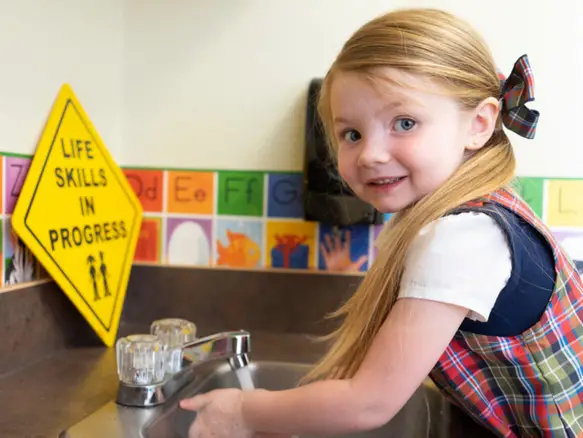 Health & Safety Practices
The health and safety of our staff and children is our top priority. We are proud to maintain high standards of safety and cleanliness: • Vaccinated Staff • Temperature and Wellness Checks 2x/daily • Touchless Check-in and Check-out • Frequent disinfecting of high-touch surfaces • Professional nightly cleaning crew • Playgrounds sanitized between uses • Daily laundering of bedding • Filtered water • Pediatric CPR and First Aid certified staff Supplementary hydrogen peroxide emitter, Halosil, for a more concentrated deep-clean
Our Commitment To You
We know that when you leave your child in someone else s care, safety, security, and nurture is paramount. That s why we re committed to the health, safety and security of every student in our care. We believe in clear and transparent communication, so you will be kept up to date daily through our Procare app, and weekly and monthly through our newsletters. With a clear appreciation of the trust you place in us, we are committed to you in every aspect.
Testimonial 1
"Absolutely everyone is friendly, kind, and professional. Primrose has been absolutely amazing. There is open communication daily with frequent pictures. I never have to wonder what's happening or what my daughter did that day. I know that my daughter is being intellectually stimulated with their curriculum. Absolutely everyone is friendly, kind, and professional. I am so happy we made the change and came to Primrose!" - Claire M., Primrose Parent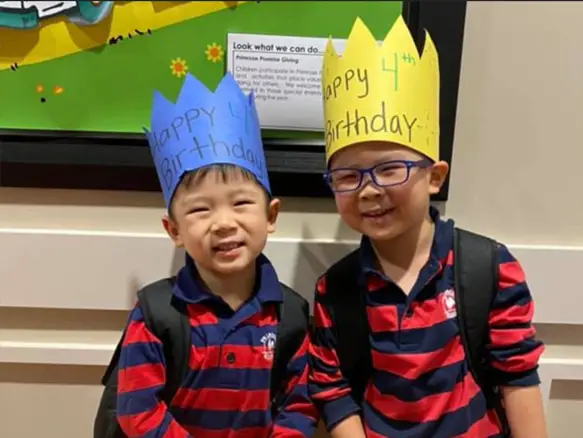 Testimonial 2
"The BEST preschool/daycare on Long Island. Everything about their program is what I'm looking for in a school; a warm and loving staff (from the administration to the teachers) who care for and know your kids like they are their own, a robust curriculum that balances learning/play/physical fitness, and a state-of-the-art facility. They think outside the box, finding ways for the children to have physical play every day, even indoors when the weather is cold. When my toddler comes home I show him pictures of the exciting things he's done that day which helps me feel connected to his development. He LOVES to look at them and tell me about his day. I value the transparency and communication I get from all the staff and how they engage my children- they have my 3 month old painting!" Alyson B., Primrose Parent
Testimonial 3
"Thank You Primrose for giving my child such amazing loving care & an excellent education at such a young age. It took me a long time & a lot of research to find a school with this type of quality & care. I only want the best for my child & this school is it. They have amazing staff, everyone is so welcoming and truly make my child feel so loved & safe. She loves going to school everyday & she is doing amazing & learning so so much. My favorite part is the consistent updates and pictures ALL day from her teachers. Luckily I m very close to the school & I can get there if they ever call. I appreciate all the updates :) Thank You Primrose for giving my child such amazing loving care & an excellent education at such a young age. We love you guys!" Corinne N., Primrose Parent
Please send me information about Primrose School of Woodbury NY
Find More
CAMPS - ART - PRINT GUIDE

Early Art Masters, the Primrose proprietary art program, teaches children the techniques of famous artists and explores various art media and processes. Children also learn to properly use and care for art materials.
Get the Best Kid-Friendly Activities
Sent to You Weekly!